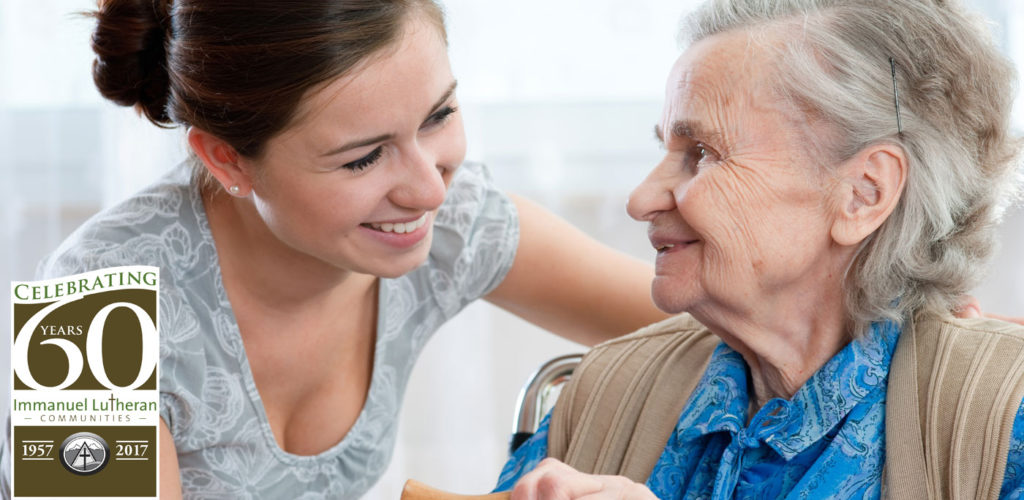 Donate now.
Help us help others through senior living donations.
Immanuel Lutheran Communities senior living donations help support residents and employees who experience financial challenges. Our Christ Care Resident and Employee Funds embrace the Immanuel Spirit fostered at Immanuel Lutheran Communities by striving to anticipate the needs of residents and fellow members of our organization.
Click here to donate today, or learn more about how you can help support our cause.
Christ Care Resident Fund: A resource for residents who, through no fault of their own, exhaust their financial resources. The majority of Immanuel Skilled Care Center residents receive Medicaid. Medicaid reimburses far less than the actual cost to provide care. On average, $65.00 per day is unreimbursed. In 2015, Immanuel Lutheran Communities provided $2.4 million in unreimbursed charity care.
Philanthropic gifts and senior living donations received for our Christ Care Resident Fund go directly to providing the compassionate, exceptional service our residents deserve.
Employee Scholarship Fund: Since receiving a gift in 1988 from the Olga Stromset estate to setup a scholarship program for staff, Immanuel Lutheran Communities has awarded over $170,000 in scholarships to help more than 95 employees advance their career opportunities. Donations to the Employee Scholarship Fund are used to create pathways to help employees advance in their career and better serve our community.
Program Development/Greatest Need Fund: Building innovative care programs while meeting the changing needs of the residents in our care has led to opportunities to support programs and building renovations over the years.
A gift from you will have a lasting impact on the residents and employees of Immanuel Lutheran Communities.
Curious about making donating to Immanuel Lutheran Communities?
We'll be happy to discuss the various ways you can give, including giving a donation of cash or appreciated assets (stocks or real estate), and arranging a trust, charitable gift annuity or life insurance. You can also donate online by clicking here.
The impact of your gift:
Your senior living donation will ensure an even richer, more fulfilling life for our Immanuel Lutheran Communities family. Donors, volunteers and community supporters have made a measurable, meaningful difference in the quality of life at Immanuel Lutheran Communities.
Thank you for your commitment and support. May you be richly blessed for your generosity.
Read more.
Download now:
Music Heals, Music & Memory at Immanuel Lutheran Communities
The Gratification of Giving
The Ed & Lorraine Wagnild Endowment
Tribute Fund
Thrivent Choice Dollars
Annual Reports:
2016 Annual Report
2015 Annual Report
Find out more about supporting Kalispell senior living.
Contact our Development Office at 406-752-9243 with your questions about charitable giving. Or print the Donation Form by clicking here and mailing it to the Development Office.