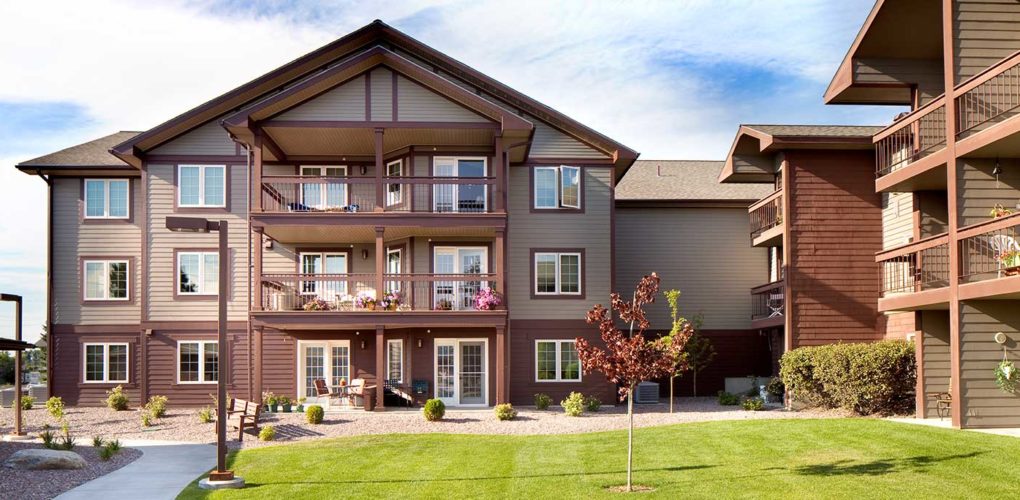 Senior Living in Kalispell, MT
Taking care of Kalispell seniors.
We ask. We listen. We serve.
Locally based and not-for-profit, we are mission-driven and locally owned and managed. The truth is, we've always given our honest best to seniors in the Flathead Valley. Today and every day, you'll find the choices, the care and the integrity you expect. Plus, we're determined to make you feel right at home–whether you're looking for Independent Residential Living, Assisted Living, Skilled Nursing, Rehabilitative and Post-Acute Care or any of our other senior-focused services. When you think of Immanuel Lutheran Communities, think of hospitality and friendship.
Mission
Enriching lives by providing Christian communities of support and loving care.
Life Plan Community
Our senior living community in Kalispell is the only Life Plan Community offering senior apartments for residential independent living, assisted living, rehabilitation and post-acute care, skilled nursing and memory care (coming in 2017) integrated into a resident-focused continuum of care, all in one place.
History
1953: Chartered by the State of Montana.
1957: First phase of Immanuel Lutheran Home constructed.
1976: Bratsberg Memory Care, one of the first congregate living environments in the country dedicated to caring for people with dementia opened on the nursing home campus.
1986: 100 Residential Living apartments were constructed at Buffalo Hill Terrace.
2000: Assisted Living Services were first offered at Buffalo Hill Terrace.
2012:

The Retreat at Buffalo Hill Terrace opened, providing personalized, post-hospital and outpatient rehabilitation and post-acute care in a resort-inspired setting.
Immanuel Lutheran Home was renamed Immanuel Skilled Care Center to better represent the increased level of services and therapies available.
14 new apartment homes were added, bringing the total at Buffalo Hill Terrace to 112.
The Assisted Living Commons was added and the Café dining venue opened, creating a new neighborhood for enhanced assisted living services.

2017: Expansion:  The Lodge at Buffalo Hill, adding 24 memory-support residences with the memory-care garden, a country kitchen and other recreational spaces to Buffalo Hill Terrace.
2018: Expansion:  The Villas at Buffalo Hill, the addition of 36 spacious apartment homes with new contracts for Residential Living, an indoor swimming pool, an auditorium that seats 150, and under-building parking.
Tradition
Our senior living community in Kalispell comes from a tradition of faith-based service and care. We serve because it's the right thing to do. Some of our residents come from our Lutheran tradition, but our community welcomes an amazingly diverse assortment of people, with open-minded kindness giving us our unique spirit.
Core Values
We're governed by a board of directors elected by delegates of the Evangelical Lutheran Church of America congregations. Our values are:
Compassion. Demonstrate devotion, grace and love for all within our service.
Excellence. Strive to give our absolute best in all that we do.
Respect. Value every person as one created in the image of God.
Integrity. Act morally, honestly and fairly as we carry out our mission.
Positive workplace. Provide a cohesive working environment with a caring staff dedicated to outstanding customer service, teamwork, respect for others, and management that models servant-leadership.
Stewardship. Adhere to sound and reliable financial practices as we preserve and grow the resources entrusted to our care.
Legacy
We've expanded to serve a wider variety of needs, over the years. But even with added services and growth, we've remained committed to our residents' happiness. That's the history of integrity for which we're known: People respect us, and we're determined to never let them down. Whether you are looking for independent senior living apartments or require more care and daily assistance, our Life Care Community our community is here to serve you.
Service
Locally based and not-for-profit, we serve seniors the way they need to be served: with whatever they need. Often, many of those we serve – or members of our dedicated staff – are those who lead the charge for new and improved programs. And frankly, that's as it should be: people first.
Support
The need for retirement choices that embrace a philosophy of dignified care for the whole person continues to grow. We depend on charitable donations from members of the community to help us fulfill our mission.
Learn more about senior housing choices in Kalispell, MT
Ask a question or get more information by calling 406-752-9624. Or complete the information request form.