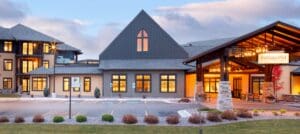 Here at Immanuel Lutheran, there are opportunities to grow into a lifetime career. There are career ladders in Culinary, Maintenance, and Nursing. We offer Youth Apprenticeships for Maintenance and Nursing, starting at the age of 16 years old.
Immanuel Lutheran is constantly updating ways to support our employees and guide them into a long lasting career. We offer Continuing Education classes and Educational Scholarships three times a year. We want our employees to be as successful as possible and to thrive in their workplace, here at Immanuel Lutheran Communities.
Learn More About Our Career Paths
To learn more about how you can join our team please contact Jenna Marshall, Talent Acquisition Specialist, at (406) 407-2480.