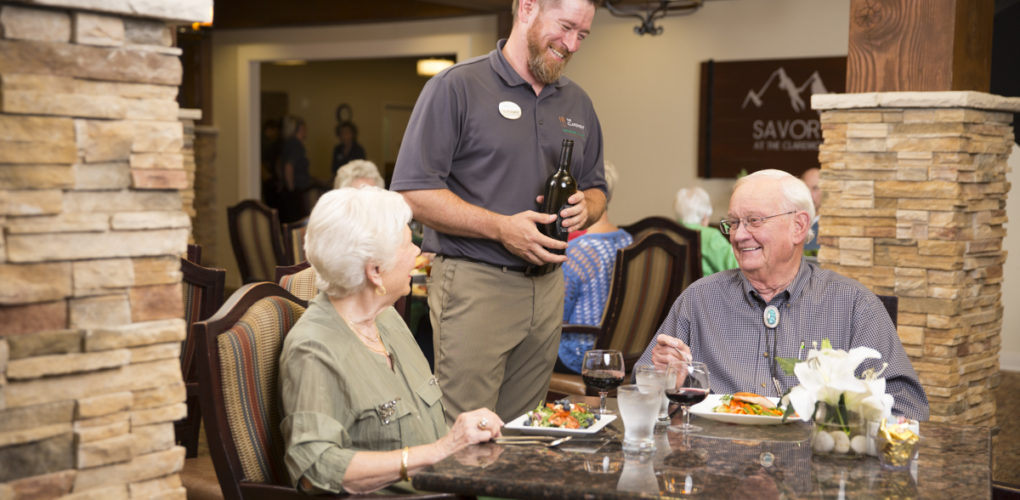 Senior Living Dining at Immanuel Lutheran Communities
Good nutrition, tastefully.
At Immanuel Lutheran Communities, our senior living dining services include culinary artistry that creates meals as pleasing to the palate as to the eye. And in our kitchen, our executive chef and skillful cooks follow a farm-to-table philosophy as they create fresh, locally sourced beautiful meals daily.
Dining venues at Buffalo Hill Terrace include The Claremont restaurant, and  The Savory at The Claremont, a fine-dining venue. Each offers chef-prepared foods in settings that encourage lingering and socializing – so the simple pleasures of dining become a vital part of healthy living for seniors. Looking for a coffee shop in the morning, or casual dining option for lunch or dinner or a grab and go option? That's the Wooden Nickel Bistro and Lounge located at Buffalo Hill Terrace.
The Wooden Nickel Bistro and Lounge menu
The Savory at The Claremont restaurant menu
Care Center dining includes multiple meal service options and times, so each resident in our senior living community can exercise independence in choosing what and when to eat.
We are always discovering new ways to contribute to the excellent dining programs throughout our retirement neighborhood. That's why the Retreat at Buffalo Hill, our rehabilitation and post-acute care center, also offers meal service 24 hours daily.
Discover what's on the Kalispell, MT, senior living menu.
Schedule a visit when you can stay for lunch – or just call with questions. The number is 406-752-9625 – or you can get in touch via the information request form.